Code Red Esports Report – December 2020

Bud Light Partners with Fnatic for First FMCG On-Pack Esports Promo
Code Red provided various agency services to Bud Light for this campaign.
Bud Light kicked off their esports activity in the UK by partnering with Fnatic to release the first ever esports-focused on-pack promotion for an FMCG in Europe, offering buyers the chance to win an exclusive gaming night with a Fnatic pro player. This was supported by the production of a TV-style advert, running online, featuring Fnatic FIFA star Harry Hesketh and Bud Light's now-respawned mascot, The Bud Knight.
Further, Bud Light worked with several notable UK influencers on the launch of The Bud Knight's new Twitter account, including Stylosa, Foxdrop, Machine and Jimmy Broadbent.
Code Red's View: In the US, Bud Light have been involved in esports through a number of high-profile tournament and league sponsorships, notably through the League of Legends Championship Series (LCS), the NBA 2K League and being the official beer of the Overwatch League. However, this campaign and associated partnership with Fnatic is the first move for the brand in the UK.
The on-pack promotion, believed to be the first of its kind for an FMCG brand in Europe, presents an opportunity for esports fans to get their hands on a unique, limited edition product featuring the UK's best known esports team. This is particularly exciting considering the pack's release across all major supermarkets, meaning that an esports branded package will be easily accessible and immediately grabbable: something that is still very much a novelty for fans.
Code Red Esports have worked closely with AB-InBev to execute Bud Light's UK esports strategy and market entry, and the integrated campaign featuring the Bud Knight has brought an authentic voice from the brand's world to the esports community. By working with significant UK influencers as part of the launch and, more recently, having the Bud Knight stream on Twitch in full armor, Bud Light has ensured that all activations are both credible to gaming fans and reflect the brand's light-hearted, fun tone of voice. Indeed, the resurrection of The Bud Knight on Twitter and Twitch has allowed the Bud Light brand to find its way to esports fans' social feeds through meaningful (and, crucially, engaging) activations.
A number of alcohol brands have entered the space already, though this has largely been outside of the UK and more widely in the US and broader Europe, including Bud Light (as mentioned earlier in this section and in our May 2019 report), as well as San Miguel, Warsteiner and Levante Brewery's bespoke beverage for Team Secret. As noted in our October 2019 report, the space has been far more competitive for beer brands, who have more readily entered. It is crucial for any alcohol brand to ensure they are entering esports through age-appropriate partnerships and taking into consideration how the brand's particular qualities can be best served to the esports audience whilst still ensuring that a keen understanding of esports and the community is conveyed.
Lavazza Partners with Fnatic and pro-player POW3R
Italian coffee company Lavazza has teamed up with Fnatic to launch their "Icons of Italy" campaign: a campaign featuring an interactive in-game experience through a customised Fortnite map which symbolically recites a journey through Italian culture, featuring the Colosseum and Lavazza's headquarter building in Turin.
Italian professional Fortnite player POW3R is central to the activation: the timed in-game map begins in his mansion, and players can submit their times by posting videos using the hashtag #IconsofItaly and tagging POW3R, Fnatic and Lavazza on Instagram or Twitter. The player with the fastest time on the map will win a virtual meet-and-greet with POW3R, with runners up winning Lavazza x Fnatic co-branded merchandise.
The campaign has also been said to include a collaborative two-part documentary following POW3R's path to becoming a professional gamer, as well as an uncovering of how POW3R is developing gaming and esports in Italy.
Code Red's View: Brand-centric custom maps can be a very effective method for brands activating in gaming and esports in an authentic way that instantly resonates with gamers; Betway's long-running challenge map series in CS:GO is a testament to this. Custom map activations represent an ideal channel for brands looking to engage fans with content they are already familiar with – and can offer exposure for the brand in a non-intrusive way that genuinely offers value to players. Furthermore, custom map activations are typically low-spend activations with high-impact potential, making them an extremely attractive option for brands to consider (although if they fail to land in an impactful way, they can have zero impact).
The "Icons of Italy" theme that both the two-part documentary and the custom map is built upon ties perfectly into Lavazza's brand identity and their focus on authenticity. The leveraging of a respected influencer from the brand's key region (Italy) further pushes this and taps into both POW3R's own fanbase and Italian heritage as well as that of Fnatic's – a globally recognized organization.
In esports and gaming, caffeinated products have had a long-standing presence through energy drink brands like GFUEL, Red Bull and Monster Energy. However, there has been a clear increase in the number of coffee brands looking to move into the space, with the likes of Madrinas, Nescafe and Dare Iced Coffee all entering previously with influencer, team and tournament partnerships respectively.
Lavazza's partnership is authentic and a good entry point into esports – and we expect it to perform relatively well (likely generating some good media coverage) – but it perhaps lacks a crucial excitement factor that will really make it memorable.
Sky Promotes Broadband Services Through Black Ops Cold War Showcase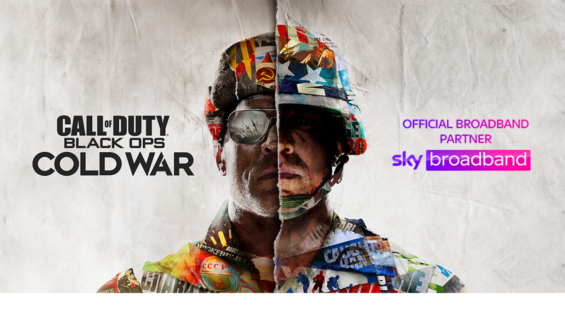 British telecommunications company and broadband provider Sky have created a Call of Duty: Black Ops Cold War online showcase event named 'No More Excuses' to advertise Sky Broadband. The showmatch will feature prominent UK influencers Calfreezy and Vikkstar123 who will participate in and promote the event, with participants being chosen through a Twitter selection process where fans used the hashtag #NoMoreExcuses to give the worst (or best!) excuse they have heard for poor performance in-game, tagging either influencer they would like to be in a squad with for the event.
Whilst the six winning participants have been announced, COVID19 restrictions have caused the event to be postponed, originally being set to take place with influencers and the participants chosen from the Twitter campaign in a specially designed "Safehouse" and streamed live.
The campaign runs in conjunction with Sky Broadband becoming the official broadband partner of Call of Duty: Black Ops Cold War. Previously through this official partnership with Activision, Sky Broadband and TV customers were given online beta codes for the game through Sky's VIP programme before the launch of the game.
Code Red's View: It goes without saying that a stable internet connection is an absolute necessity in online gaming, and blaming bad performance in-game to poor connections is a shared and relatable experience for most gamers, meaning that the campaign conceptually is logical. However, gamers are generally tech savvy, and Sky have not provided authentic reasoning that their connection is ideal for gaming: Sky should look to introduce this into their messaging to ensure their proposition is seen as credible.
Partnering with established influencers presents multiple strengths to the campaign: their involvement with the competition propels an authentic buzz, amplifies the campaign itself, and gets the community interested in participating in the competition. Their involvement is also an ideal platform to build content around the activation and ensure that it's taken seriously by the community. Had Sky chosen not to involve influencers, it is unlikely that the fanbase would be particularly interested in signing up to compete, especially when considering that the prize for winning appears to only be some COD merchandise, whilst being able to play with some renowned UK influencers is a unique prize in itself and an unforgettable experience for many fans.
Previously, as part of the partnership between Sky Broadband and Call of Duty: Black Ops Cold War, beta codes for the title were available to customers before the official launch of the game without needing to pre-order, as well as COD points, consoles and other prizes being offered exclusively to Sky Broadband customers. This works well to drive loyalty from existing customers and perhaps entice some new customers, though the offering is probably not compelling enough to drive significant numbers of people to switch providers; it may, however, cause new broadband subscribers to choose Sky over competitors during their initial purchase.
Other UK broadband providers have capitalized on the need for a strong internet connection for gaming, with BT partnering with UK organisation Excel Esports to produce some co-branded content (such as "BT Player of the Week" on social media), to feature on the team's jersey and to release a number of OOH ads focusing around gaming. We spoke more about the partnership in our February 2020 report, noting the lack of movement from other big names in the space such as Virgin, who have executed little in the space beyond acknowledging gaming as a market and offering services tailored towards gaming.
Poker Bets on Esports Opportunities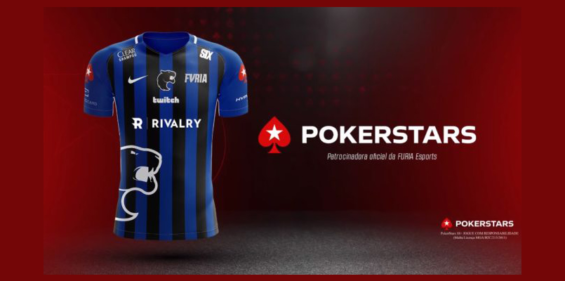 Poker heavyweights PokerStars and partypoker both launched esports activations, opting for different strategies to try to leverage Twitch's audience interactivity, which has captured the interest of poker operators. Brazilian esports organization FURIA announced a partnership with PokerStars, which on top of standard sponsorship deliverables, such as shirt sponsorship, will uniquely include the signing of several poker players to stream poker on behalf of FURIA, whilst a further competitive poker roster will be built to enable FURIA to compete in both online and offline poker events. The partnership will also see FURIA co-founder and professional poker player André Akkari holding streamed poker classes; further to this, FURIA is also building a new São Paulo-based facility which will include a branded "PokerStars Room" on the site.
partypoker opted for an influencer-event based route, inviting several popular streamers, professional esports players and professional poker players. Entrants in "The Big Deal" event competed for $50,000, and the event featured a unique tournament format made for individual influencer broadcasting, where eliminated streamers would then "raid" (where a streamer sends their viewers to another stream) another still-competing player's stream. A similar mechanic has previously been used by America's Cardroom on a smaller scale.
In addition to being streamed through influencers' own channels, the event was also broadcast live through the official Twitch channel of partypoker, with a highly-ranked professional poker player and a poker streamer commentating over the games.
Code Red's View: In 2020 there have been a few notable examples of esports organisations branching away from "traditional" esports content and signing content creators and players in other games such as chess and poker. Emerging into these fields can enable esports organizations to broaden their talent pool, extend brand reach and open up new lines of revenue. Poker (and the wider gambling ecosystem) is undoubtedly a lucrative space, and thus is an attractive offering for teams looking to open up wider revenue streams.
PokerStars' partnership with FURIA feels natural, given André Akkari's poker background, and coincides with changes to PokerStars' brand positioning: such a partnership will help develop PokerStars as not only an online poker platform but a hub for poker-centric entertainment. Thus, FURIA seem like the perfect team to partner with for this, given their understanding of both industries, and likely will develop content and activations that resonate with their fans and can acquire new depositors for PokerStars.
Influencer-focused tournaments seem like the obvious route for poker brands to activate in the space (with Unibet having done so a number of times previously) but one-off activations, where the players are interacting with each other rather than their audiences, is unlikely to convert new registrations as effectively as having a streamer showcase what they are doing, and explain why it is a fun pastime. Poker operators need to consider why the game is appealing to gaming fans: that is it appeals to their competitive nature, that it is a strategic challenge, and that unlike most games, poker provides a tangible result for winning outside the professional level.
ASOS Brings Together Streamers for "Asquad" Twitch Activation
British online fashion retailer ASOS made a step into the gaming space last month through a Twitch campaign that saw the brand working with a few influencers as part of the ASOS "asquad" including Djarii, Orb and Emzia, supporting a significant run of video ads on the platform: the streams were featured on the Twitch homepage. Each influencer carried out a sponsored stream which saw them show off some pieces of clothing from ASOS that they wanted to highlight that illustrated their own sense of style; the stream featured ASOS branding throughout including small cards that detailed each item of clothing the influencer wore, stream transitions and a permanent on-screen logo. UK viewers were also offered a 15% off discount code during the stream.
Further to the separate sponsored streams, the squad members also conducted a joint stream as part of a special Black Friday promotion that highlighted significant discounts, saw each influencer try-on outfits whilst the others gave their thoughts about the clothing.
Code Red's View: ASOS have been spending significantly with Twitch on traditional video ads, and this small-scale campaign in support of this was a logical way for the brand to dip their toes into gaming influencers. Despite working with smaller-scale influencers (with Djarii, a perfect fit given the fashion-focused nature of the campaign, being the most notable with 370,000 Twitch followers) for only a few sponsored streams, the brand gained a lot of exposure through Twitch featuring them on the homepage carousel.
The influencer campaign concept was solid and well-executed, with the branding on stream being very fun, vibrant and easy to follow (with specific item cards and outfit lists on-screen enabling viewers to easily find the items that the influencer was wearing and speaking about). Timing to coincide with Black Friday was also a sound move, with ASOS already having a reputation of being an affordable, accessible site and offers on clothing being very attractive (70% off). Furthermore, the campaign itself was authentic to the streamers' content, with all three being interested in fashion and able to share their interest in clothing without it coming across as forced or uninteresting for their viewers.
However, the video ads that ASOS ran across the site were lacking: not only were they not targeted towards the gaming audience, but they were generally unengaging. ASOS's campaign, whilst gaining reach, will not have built any significant favour with the audience it felt more like an extension of a general media buy rather than a campaign focused on the gaming audience. Brands should carefully consider their creative strategy, especially those, like ASOS, which have high awareness and are primarily looking to build brand affinity.
Engagement in the esports and gaming space from fashion brands has been relatively scarce thus far (though November did see H&M also make a move into esports through a partnership with the official Dutch FIFA esports league eDivisie), with luxury brands such as Gucci and Louis Vuitton being more active than high-street, affordable brands. Moreover, so far the esports space has largely seen clothing and merchandise offerings push out from teams or esports stakeholders themselves (such as 100 Thieves, who have had huge success with their streetwear style "drops"). There is thus significant opportunity for fashion retailers to come in and make a mark on the gaming space, especially given the huge opportunity to implement clever, widely appealing creative strategies.
With fashion being often a personal experience, working with influencers is undoubtedly an effective route to take. Fashion brands should consider working with those with a keen interest in fashion and a sense of style that ties into the brand's own trends and offerings: doing "hauls" on stream akin to those of fashion and beauty influencers on YouTube is perhaps a good way of tying both worlds together, though it is important that this does not detract from the influencer's own content nor "bore" fans who are more interested in gameplay than anything else (thus working more closely with lifestyle-esque influencers may be more fitting than that of professional players, particularly for high-street or "affordable" retailers). Such content could be cut down into 30s video ads that could then be used across other forms of paid media and resonate better than generic adverts.