Code Red Esports Report – March 2021
Team Liquid Partners with IMC Trading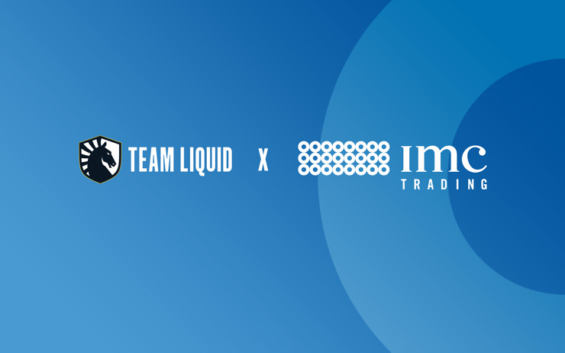 US gaming organisation Team Liquid have announced they have partnered with technology-driven trading firm IMC in a multi-year deal. In the announcement, Team Liquid stated they will use the partnership to elevate "priority programs across fan engagement, community relations and events production"; IMC will also be a supporting partner of Liquid Hacks: a hackathon aimed at offering fans an opportunity to develop solution to "pressing issues" that face the industry.
IMC will also introduce awards, features and sponsored segments alongside leading StarCraft event series, the Team Liquid StarLeague. The IMC logo will also feature across all of Team Liquid's team jerseys.
Code Red's View: This deal seems well conceived, with numerous considerations at play that make this a multi-faceted partnership with several strong points. Through this partnership, IMC appear to be looking to connect with a young, digital-first audience that is tech-savvy and who could either be potential employees or clients of IMC. This partnership is well placed to engage with this audience, offering community events and fan engagements that will enable IMC to integrate themselves into Liquid's community and be perceived as a facilitator of positive, desirable activities.
Secondly, and perhaps more interestingly, while StarCraft isn't as popular as it once was, it could be a great way to reach a slightly older audience that more closely matches current potential employees through the nostalgia of the once leading esports title. StarCraft II carries a lot of credibility compared to other titles of a similar size due to its previous stature, especially with the more long-standing esports community; by tapping into opportunities around the title, IMC could also extend their reach into an audience that is perhaps slightly more difficult to reach through other avenues within the partnership, whilst the support of the Liquid Hacks hackathon directly ties into potential employees.
Competitors looking to enter the space should consider this deal as a good example of the opportunity within the space to execute partnerships that target the audience, come across as authentic, and tie in key brand values simultaneously. Had this partnership solely been focused on the sponsorship of Team Liquid through producing unique content and including the logo on the team's jerseys, the deal would likely not have any cut-through nor significance for fans (particularly considering the offerings of financial and tech companies that can be much drier and less overtly engaging to the audience).Through enabling community-driven events, supporting innovation in the industry, putting a spotlight back on older titles that still have thriving communities, and a number of further activations, IMC have taken an in-depth, holistic approach to their engagement in the space that will likely see positive sentiment and growing brand recognition over time. It is critical that brands take an analytical approach to where they may best fit in and add value to the audience, so that any partnerships gain traction and achieve their core goals for involvement in the space.

Verizon Highlights 5G Offering with Virtual Super Bowl Stadium in Fortnite
Verizon used this year's Super Bowl to appeal directly to gamers and promote their 5G Ultra Wideband as a viable connection for gaming. Using Fornite's creative mode they built a virtual version of the Super Bowl stadium and allowed players to play out their very own Super Bowl fantasies, including playing football-themed games and participating in scavenger hunts. Lauded as the " largest activation ever" within Fortnite creative mode, the stadium was used to host multiple streamed events featuring NFL players and Fortnite professionals alike.
Code Red's View: This was an exciting activation that tied together the real and virtual world in a unique, accessible way that surrounded one of the biggest sporting events in the world. The virtual stadium showcased 5G's low latency (a core driver for gamers when it comes to connectivity) and Verizon's 5G offering more broadly through the virtual stadium as well as further activations they did around the Super Bowl, including mobile viewing with NFL's app and offering multiple camera angles, augmented reality overlays of stats, and co-viewing through the Yahoo Sports mobile app.
Alongside being a large scale showcase of the flexibility and possibilities within Fortnite Creative mode, Verizon's partnership with Epic Games to execute the activation also saw the virtual stadium being made a "Featured Hub" throughout early February, meaning that any players entering Creative mode were immediately dropped into the stadium, ensuring eyes-on and increasing the likelihood of interaction from players who are already at the stadium without any need to "choose" to go there.
We've talked at length about the opportunities for 5G and are bullish about real-life crossovers with the virtual world: this activation encompassed both aspects and was undoubtedly an innovative, well-executed campaign. Fortnite, being well-known for the possibilities within the game and the numerous in-game concerts and events, was a perfect choice for this; by tying it to such a major sporting event, Verizon was also able to drive further traction from the general American public and more casual gaming fans whilst playing on the hype around the Super Bowl and providing a way for people to get involved: providing a solution whilst the pandemic prevented the actual stadium from being filled out.
This is not the first time Verizon has entered the space, having sponsored a number of tournaments including the League of Legends Championship Series (again in a focus on their 5G capabilities), being an official partner for Riot Games' First Strike Valorant event in late 2020, and hosting a preview for League of Legends' mobile version (Wild Rift) on Twitch. You can learn more about our general thoughts on telecom in one of our earlier reports.
Golden Guardians Bring on "Official Smile Partner" in Invisalign
American esports team Golden Guardians, the esports division of the NBA's Golden State Warriors, has announced a partnership with Align Technology and their Invisalign brand: an alternative to braces that straighten teeth through transparent, custom aligners. Whilst exact details of the deal haven't been disclosed, it will look to encompass social media marketing elements, digital branding on socials and Twitch, and the Invisalign logo being placed on the team's jerseys throughout the duration of the deal.
Code Red's View: This marks the first time a company providing dental cosmetics has used esports as a marketing vehicle. At first glance this may seem like an odd pairing but an increasing number of healthcare brands have entered the space, and whilst the entry from a dental brand may seem to have no direct relevance, raising awareness around the Invisalign brand and encouraging consumers to identify it as an alternative to braces certainly has its value. Additionally, tying into the idea of a "winning smile" has perhaps some opportunities, though it will be crucial that Golden Guardians and Invisalign both ensure that such moments do not come across as cringeworthy, and find some moments beyond team victories that can tap into product-related terminology so that the brand is present in more than just key tournament-winning moments (that can be unpredictable and arguably not frequent enough to ensure the "winning smile" moments can be amplified and talked about).
This activation is much more likely to be a brand recognition strategy, looking to increase awareness of the product and brand, and tap into a generation that may consider investing in their own appearance through non-invasive cosmetic procedures. Indeed, a key benefit to Invisalign is the invisible-look of the aligners: taking away the initial reluctance that the 18-25 demographic may have around committing to braces. Indeed, Invisalign's offering is well positioned to appeal strongly to the demographic; increasing their profile and ensuring the audience is aware of the product may perhaps see increased brand favourability.
Partnering with a team can certainly produce "smile-making moments" and we expect social media activations to try and engage fans in a natural way in order to make such moments a core, memorable part of Invisalign's campaign in esports. Brands looking to promote non-invasive cosmetic procedures or dental services/products may also look to work with influencers as a strong avenue to connect with the audience, though it is critical that such products and services are promoted in a way that does not suggest such procedures are a must-have (which may cause backlash).

Rockstar Energy Furthers Investment in Gaming Through 100 Thieves Partnership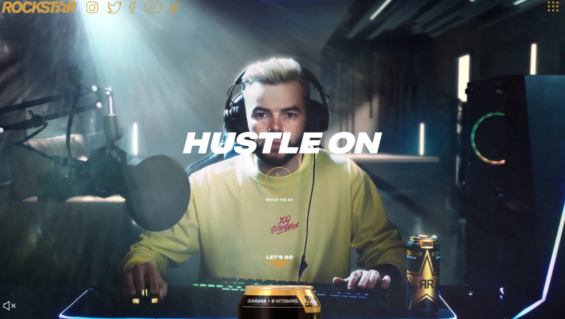 Popular American esports organisation 100 Thieves have announced a partnership with energy drink brand Rockstar. The announcement comes off the back of 100 Thieves figurehead owner, Matthew "Nadeshot" Haag, appearing in the Rockstar Energy Drink commercial at half-time during the Super Bowl. The deal will see Nadeshot and wider 100 Thieves personalities and players becoming primary faces for the brand throughout the year, and will aim to deliver original content and "interactive experiences" focused on pushing gamers to the next level.
Code Red's View: Energy drink brands are no strangers to esports, with a number competing for market share and the two giants (Monster and Red Bull) in a constant battle for the top spot, alongside the more native G FUEL. We have covered energy drinks extensively in a previous report, noting the need for competitors looking to gain a foothold in the space to invest heavily in order to gain any sort of market share or traction in such a saturated space.
Indeed, this is also not Rockstar's first venture into esports as they announced a partnership with German based esports team Mousesports last year: their latest deal with 100 Thieves shows a much more significant level of commitment and investment into the space (particularly considering 100 Thieves' notable fanbase and the inclusion of a gaming personality in a Super Bowl ad slot which, whilst not a first, is still exciting for fans).
To compete with the other brands who already have a more significant presence in the space, Rockstar will need to continue looking for creative means of promoting their product to an audience that is bombarded with messaging around energy drinks, whilst showing the audience that the brand "gets it" and can become part of the community on a deeper level.
Netflix Announces DOTA Anime Adaptation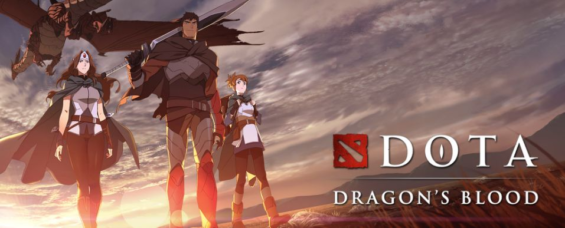 Netflix announced that they will be producing an anime series based on popular top tier esports title, DOTA. The MOBA has been part of the esports scene since its first version back in 2004 and went on to pay some of the largest prizes in esports history after being acquired by Valve and releasing its second version in 2013. The anime, titled "DOTA: Dragon's Blood", fleshes out the world of the game through an eight episode series that has received some mixed reviews since its recent release.
Code Red's View: Esports and gaming related content has become appealing for a wide range of OTT and more traditional broadcasting platforms, with ESL creating exclusive content for Hulu, British organisation Excel recently being the focal point for a documentary that was aired on the BBC, and Netflix also announced a new documentary featuring professional Counter-Strike player Patrik "f0rest" Lindberg.
Video game adaptations – particularly to movies – are not uncommon, but the crossover between the gaming and anime fandom is significant and there have been numerous calls for DOTA (and perhaps more so for League of Legends) anime adaptations. What is critical, however, is for adaptations to ensure they are authentic to the game and its lore so as to ensure fans feel fulfilled by the content and as though it is an accurate representation of the game.
Including smaller pieces of lore or references that only the most hardcore fans would know will likely be picked up on and appreciated, but it it is also crucial that the content itself is entertaining as a standalone piece: there needs to be a reason it exists as much as it should represent the game accurately.
Fans want to be immersed in the world and uncover more about it through the consumption of new media and thus, whilst the acquisition of such content from mainstream media platforms offers significant opportunity through a means of attracting an audience that's keen to get their eyes on the content regardless (and happy to praise those that get it right), it must be executed to a high standard. For IP owners, content and other licensing opportunities based around leading properties are a naturally appealing proposition and something that is likely to continue.