Code Red Esports Report – October 2020
K-Pop Superstars BLACKPINK Partner with PUBG Mobile
PUBG Mobile have teamed up with hugely popular K-pop girl group, BLACKPINK, in an unexpected new partnership. The collaboration, which ran between September 24th and October 2nd, coincided with the release of BLACKPINK's new studio album release, The Album. Players saw a number of changes in the game to align with BLACKPINK promotion, such as the new single "How You Like That" in place of the regular in-game lobby music and BLACKPINK visuals being added to the in-game menu, the plane and airdrops. Fans could also win limited edition BLACKPINK merchandise by playing the game.
September also saw PUBG Mobile announcing an extended partnership with Mountain Dew which will see Mountain Dew Fuel Stations added to the game for a limited time. PUBG Mobile and Mountain Dew have worked together in the past, with the drinks company being a sponsor of the PUBG Mobile Pro League South Asia earlier this year.
Code Red's View:
This is a win-win campaign for both parties, offering huge exposure for BLACKPINK to a hugely popular worldwide game whilst also garnering significant promotion for PUBG Mobile by BLACKPINK, and incentives for their fans to play. This is not the first time that music artists have utilised games to promote themselves, with Fortnite undoubtedly being a leader in the in-game promotion of artists such as Marshmello, Travis Scott and Diplo, and out of game, Drake streaming with Ninja. However, the BLACKPINK partnership is one of the heaviest in-game advertising campaigns seen so far, with significant portions of the in-game experience being altered to promote the band, ranging from reworked visuals of in-game items to the music of the game itself being swapped out for the band's new single.
K-pop is unquestionably huge and its fanbase has become increasingly global over the past few years; Korea is also a hotspot for esports and gaming and a country where these activities are much more ingrained into the culture and mainstream media – making the crossover between gaming and K-pop all the more fruitful. BTS, the biggest name in K-pop at the moment, also opted for an in-game route when promoting their latest single "Dynamite" in September, working with Fortnite to hold an event in-game in a similar fashion to the aforementioned artists.
Considering how saturated consumers are with content and advertisements, it's becoming increasingly important to find new, innovative, exciting ways to promote to audiences. Activating through PUBGM not only gives access to a wide, committed audience and promotes in a more interesting way than traditional channels (allowing consumers to actually interact with branded in-game items they are familiar using already), but the advertisement is also unavoidable: you cannot simply "skip" the ad or choose not to consume, whilst they do not detract from the playing experience.
We are bullish about opportunities for in-game advertising, and think that this partnership is illustrative of the extent to which games can advertise brands without it coming across as something that is "ad-heavy". However, the important thing to note is that this would not be successful had it not been one of the most popular K-pop groups, nor if it had been a product rather than personalities. It is paramount that such heavy in-game branding centers around something "cool" that consumers are likely to enjoy and find interesting, as opposed to immediately seeing it as a game that is being plastered with ads. Mountain Dew (and their partnership with PUBG Mobile that sees "Mountain Dew Fuel Stations" in-game, as well as a variety of special real-life product offers that translate to in-game rewards) provides an example of how to integrate a product in a much more apt way.
Burger King #StevenageChallenge Not Quite As Successful As Portrayed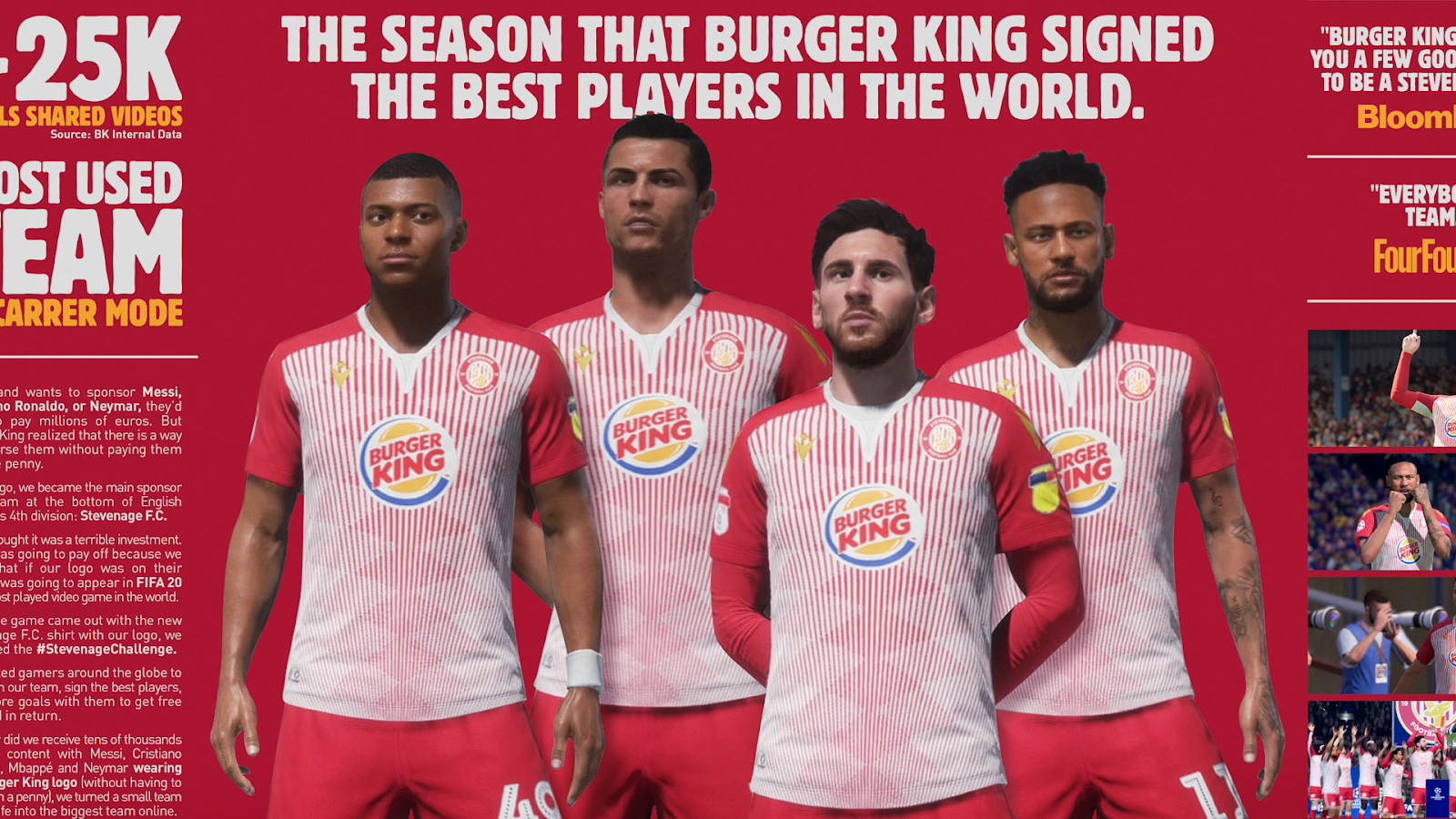 Burger King have been lauded for their marketing efforts as a result of their #StevenageChallenge campaign (executed in 2019) that was recently circulated across social media and highlighted as a prime example of an innovative marketing campaign. The fast food company sponsored the shirts of English football team, Stevenage, knowing that they would go on to have the Burger King logo in FIFA despite the team being the lowest ranked in the English Football League. Following the logo being implemented in-game, Burger King then challenged gamers to play as Stevenage on FIFA's career mode to earn real-life rewards such as a free Whopper meal.
Code Red's View:
The most impressive element of this campaign is that Burger King, in light of their recent failed campaign that angered many within the gaming & streaming community, have managed to turn around the wider perception of them so quickly, and it is a marketing masterclass in how they have turned a historic campaign, which had clearly fallen by the wayside, into something praised as groundbreaking.
The activation itself was a clever way to leverage Burger King's Stevenage sponsorship and was likely very cost-effective. It combined a number of tried and tested routes, such as leveraging in-game assets, playing on the "viral" nature of social-media driven challenges and offering desirable real-life rewards for in-game achievement. However, the #StevenageChallenge itself drew limited attention whilst it was ongoing, and primarily its success was down to Burger King retaining a host of major FIFA influencers rather than the concept. It was an authentic and clever campaign (although career mode is a minor mode in FIFA, played solely offline against the computer, and does not have anywhere near the popularity of Ultimate Team) but it is the recent PR campaign around this that has undoubtedly been extremely effective.
There is lots of opportunity in terms of getting branding in games, and we generally consider this to be a viable and effective route for brands that are seeking to engage in the space. Furthermore, Burger King's sponsorship of Stevenage was a smart move as they were able to get their logo on the jerseys of some of the world's biggest players (albeit virtually) through user generated content without having to pay the associated real-life costs: although Lionel Messi's lawyer might have words to say about their exploitation of his image.
It was smart of Burger King to highlight this campaign to help rebuild their credibility & reputation in the gaming space, and it will likely mean that their next endeavour in the space is not immediately met with criticism but is judged on its merits, as they have shown that they are able to also conduct campaigns that are authentic, rather than not knowing how to engage with gaming fans.
It is crucial that brands looking to build loyalty and strong relationships with esports fans carefully consider their activations and long-term strategies so as to avoid any blunders that may inhibit the growth of the brand in the space.
Cadbury Looks to Gaming Influencers with New Cadbury Heroes Parents League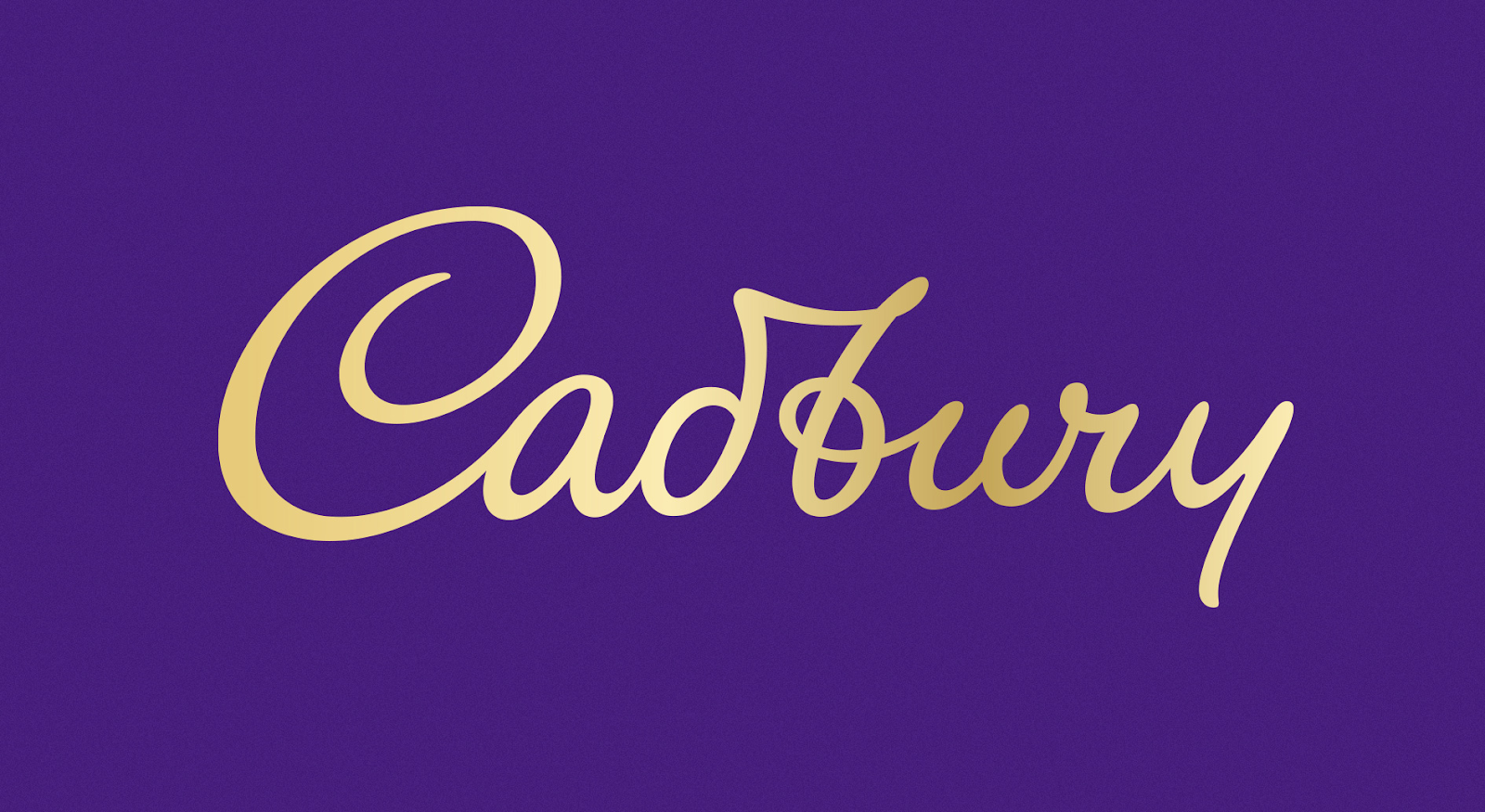 London-based tournament organizer Gfinity has teamed up with Cadbury to launch a new tournament featuring influencers competing head-to-head in a competition that will see them gaming alongside a parent or guardian. The 2v2 competition, titled The Cadbury Heroes Parents League, will also include a training period for influencers and their parents which will allow fans to join in and see their progress. The bulk of the competition will take place online, with the Gfinity Arena in Fulham hosting a live final later in the year.
Code Red's View:
This is the first move for Cadbury in esports, though its parent company Mondelez International has made moves in other regions through some of their other brands including Sour Patch Kids (sponsor of the Overwatch League) and Chips Ahoy! (sponsor of G2 Arctic).
Whilst this campaign is definitely not one for the purists, it does feel like it will suit the inclusive nature of Cadbury as a brand. It also cleverly plays on the Cadbury Heroes brand that they are looking to promote, giving a nod towards the core unique element of the tournament: the involvement of the influencers' parents
The inclusion of parents into the 2v2 competition not only enables the competitive aspect to fall (happily) into a more casual route which won't face any criticism from the inclusion of personalities that play different games and thus are unlikely to compete fairly across the selected game (which in turn allows Gfinity and Cadbury to face less limitations when choosing which influencers to work with), but also will garner interest from fans who are keen to learn more about the lives and loved ones of their favourite influencers. In addition, the UK scene is more limited in terms of large-scale team or event sponsorship, so looking to activate through influencers is undoubtedly a logical step.
A number of snack brands have made their way into the space, with chocolate brands KitKat, Herseys and Snickers already having made significant moves in the industry (though not focused on the UK), ranging from event and team partnerships to influencer campaigns. We have explored KitKat and Snickers in two of our previous Esports Reports, looking more closely at the best routes for chocolate brands to get the most out of engaging in the esports space.
Real-Life Battle Royale, AXE Project Wild, Misses The Mark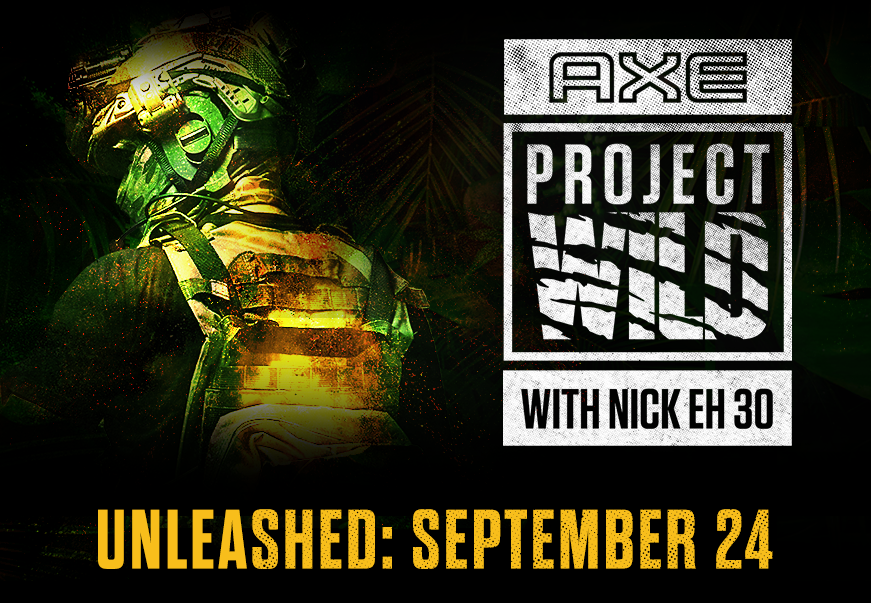 The Canadian arm of deodorant brand AXE teamed up with popular influencer Nick Eh 30 and a number of other influencers to create a real life battle royale: AXE Project Wild. The event saw Nick and 11 other influencers battle it out on a paintball field, with the whole event streamed live on AXE Canada's Twitch channel. The activity featured some of the biggest streamers in Canada, with names such as MattShea, Mtashed and kaitlyn all getting involved.
AXE are not new to pushing their brand to gaming enthusiasts having teamed up with both League of Legends publisher Riot Games and American tournament operator ELEAGUE in the past.
Code Red's View:
This idea is a solid one: YouTuber MrBeast achieved 37 million views on the same concept in March 2019 (in a video sponsored by battle royale game Apex Legends, and in which Nick Eh 30 competed), bringing the hype and popularity around the battle royale genre to a real-world setting whilst also leveraging influencer fanbases to draw attention to the event and thus the brand and its products.
Unfortunately, as a copycat, AXE's activation drew little fanfare, and the stream generated an average CCV of just over 1,500, leaving the event feeling like a missed opportunity to either add an original twist to the concept or to execute it in a better way. The activation did make sense in terms of integrating AXE products, a paintball game sees influencers running around and getting sweaty: AXE can ensure they stay smelling fresh throughout, and the "Wild" brand fits into the activity at hand. As such, it was not damaging to AXE, but won't have made the mark they would have hoped for.
The event also struggled in terms of production: it is difficult to make watching a paintball match for an extended period of time exciting, with jarring camera angles also making it difficult for viewers to spectate. Further, AXE should have leveraged Nick Eh 30's Twitch and YouTube channel and broadcast the event there, utilising his platform to gain reach: real life crossover content on influencer's channels is compelling viewing and can offer something different and unique to their regular gaming content.
AXE is a strong competitor in the space thanks to their previous deal with Riot Games which saw them activate across the 2019 World Championship, however an increasing number of personal care brands are entering the space thus increasing competition and making it even more important for such brands to find exciting ways to activate that will draw more attention to their brand over any competitors. We have explored personal care brands in further detail in a previous report.
Tim Hortons Plans to Open Esports-Themed Coffee Shops in China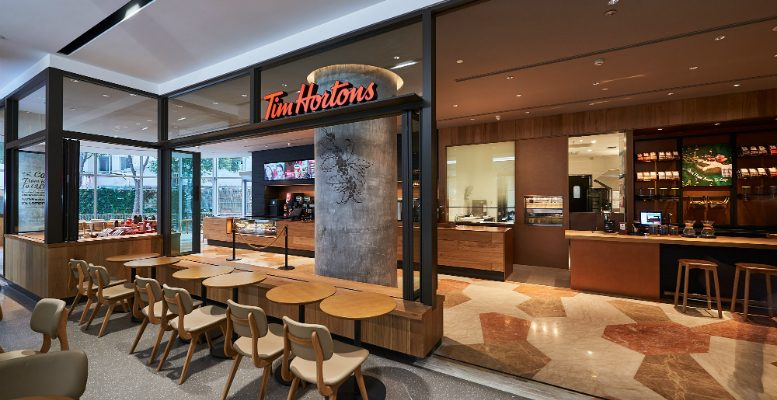 Tim Hortons have revealed they will be opening esports themed coffee shops in China following a large investment from Tencent, who took the brand over to China and opened the first Tim Hortons in the country in 2019, with the plan to open 1,500 more. The coffee shop will branch out to create shops which will include "esports themed beverages, food and in store activities".
Code Red's View:
The Chinese coffee shop market is a competitive one, with Starbucks aiming to have 6,000 shops in the country, Luckin already having 4,500, plus multiple smaller chains, independents and the innovative Coffee Box making coffee readily available. Therefore, despite Tim Hortons being a major retailer in both Canada and the USA, it makes sense that they are attempting something innovative in order to gain market share.
Their esports focus seems well planned and ideal considering that there are a number of beneficial factors going into this: China's massive esports consumer base, Tim Hortons being an existing well-known coffee shop brand, and support from giant Tencent. Backing from Tencent is significant considering it opens up access to a number of esports titles and their IP, with Tencent having a significant stake in a number of top tier esports titles, notably League of Legends, Crossfire, Honour of Kings and PUBG Mobile, all of which are hugely popular in China.
Beyond this, there is room in the market for a well-established and exciting re-imagining of the traditional internet cafe. Tim Hortons has the potential to do this: providing already popular, well-established food and beverages but in a setting focused on optimising the experience for esports fans. Monetizing the offline experience for esports consumers is strategically sound, and whilst internet cafes and esports bars are not rare, they lack the investment and opportunity that a giant like Restaurant Brands International can bring (1,500 shops planned across China is an immensely significant investment in comparison to other esports venues that are often based in one or two locations, thus rendering them less accessible and more of a novelty than a hub for esports fans to visit and enjoy frequently).
Themed beverages and food could also be an exciting proposition for this venture, particularly considering the social media heavy world of today, creating a unique but accessible experience for devoted fans of a title. We expect that this will be well executed and closely tied to games Tencent have a stake in.